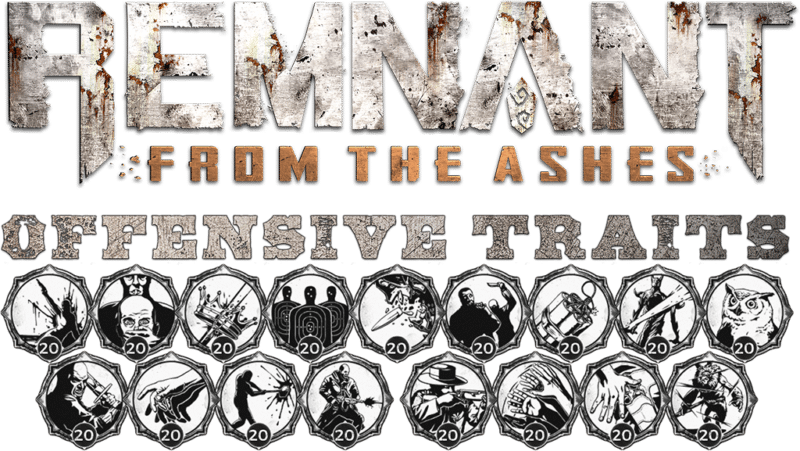 This guide covers the Offensive traits in "Remnant: From the Ashes" which benefit the player with increased damage dealing with direct damage buffs, critical hit buffs, attack speed increases and more. Traits are passive bonuses your character has that can be leveled up, increasing the strength of the effect up to their max level of 20. These bonuses can grant a variety of buffing effects that make your character more powerful and increase their abilities.
Offensive traits are the passives which boost your overall damage output and come in three varieties. There is one set of traits that benefits both melee and ranged damage with a set of specific traits for each respectively. The general traits, specifically Executioner (crit chance), Kingslayer (crit damage) and Exploiter (weakspot damage) are incredible bonuses that are definitely worth maxing out as soon as possible, since they will increase your damage output significantly in all situations, being further enhanced by the rest of the offensive traits.
Last Updated For: Subject 2923 DLC (August 20th, 2020)
Offensive Traits By Importance
Note: Traits are listed in terms of my own analysis of their overall importance and impact, starting with the best trait to max out first (Executioner) and ending with the least important or impactful (Cold As Ice).
Keep in mind, for Offensive traits, this is per category, so ranged and melee damage are not less important than the general traits as a whole, though the first three (Kingslayer, Executioner and Exploiter) should be done prior to branching off to the ranged or melee traits. If you disagree with me or have a reason why this order should be changed, I would love to hear your opinions in the comments section below!
General Offense Traits (Melee and Ranged)
Executioner is the top spot in the Offensive traits thanks to the massive damage potential behind critical hits once you start stacking a lot of the various offensive traits. While it might not make the largest impact in all situations, it is a very good place to start for most, since it works equally well for almost any character build, and set's up the stage for the next passives in the list to ramp up the damage by causing more crits to happen before we worry about boosting the crits themselves.
The next logical step for making the most out of our critical hits, is upping the damage bonus granted by scoring said hit. Kingslayer will make a noticeable difference to your damage numbers flying up from your hits, and will stack with the weak spot damage bonus, which is an additional percent increase from the resulting crit damage, making the effect multiplicative, thus causing exponential gains as the respective bonus percents go up.
With Kingslayer and Executioner maxed out, Exploiter completes the critical hit trifecta by upping the damage bonus applied to weakspot hits. As mentioned previously, this effect stacks multiplicatevely with the Critical Hit damage bonus, causing critical weak spot hits to cause massive damage and being the source of much of the nuking damage you might see from high end builds. While not all regular or elite enemies have weakspots worth trying to target, all bosses generally do, meaning this becomes the most beneficial during the toughest portions of the game.
Note: At this point it is worth considering the Melee or Ranged damage traits, depending on your build prefrence, before continuing down the general damage traits.
---